IPL Permanent Hair Removal
Small area $ 150

Medium area $ 225

Large area $ 275

Extra large $ 300

☆Save 30% purchase hair removal package

7 total treatments
RF Radio-frequency Facial Skin Firming
Face $ 200
Neck $ 175
Microneedling - Skin Pen
Face $ 225
results after 4 treatments
Carbon Laser Facial "The Hollywood Facial "
$250
IPL Photo Rejuvenation / Photo-facial
Face $ 200
Neck $ 175

Decolletage $ 225

☆Buy one IPL get 2nd 50% off
results after 3 treatments and regimen of retinol
Carbon Laser Facial -
A carbon Laser Facial is a safe and non invasive procedure that involves applying a layer of liquid carbon over the face, which penetrates deep into the pores. After the carbon has been applied and dried for 5 minutes we then laser the carbon off of the face. The carbon absorbs contaminants, and when the laser destroys the carbon it also gets rid of the contaminants helping to remove dead skin cells, blackheads, impurities, oil and leaves the skin clean and radiant.
What are the benefits of the carbon laser facial?
There are many benefits. The process exfoliates the skin, minimizing the look of pores, evening out skin tone as well as making the skin softer and appear more radiant. The treatment helps to minimize age spots and freckles. If you have acne prone skin this facial is particularly beneficial for people with oily skin, as it reduces acne-causing bacteria and shrinks sebaceous, or oil, glands.
After the treatment the skin feels tighter by improving elasticity and gives it a bright and radiant complexion.
Reduces the look of fine lines and wrinkles
Reduces pore size
Reduces acne, scars and post acne discoloration
Removes dead skin cells from the superficial layer
Stimulates collagen growth
Improves skin texture
Clears pores to help reduce blackheads and whiteheads
Results may vary.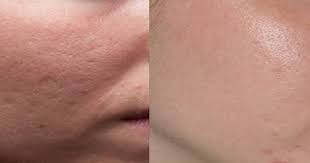 Cancellations: Please verify your correct appointment time and schedule.
Cancellations that are made for any reason within 24 HOURS of your scheduled appointment will be charged a $50 Cancellation fee. This is to offset part of the cost of un-billable time and rescheduling. You will not be charged the price of the missed treatment. Vanish Skin and Laser is a small business and we pride ourselves in providing competitive and lower rates to our clients. In order to keep our services affordable this cancellation fee will be charged. You will not be able to reschedule your appointment until the fee has been paid.
No Shows: If you do not show up for your appointment and do not call, you will be charged a No-Show fee of $50 and will not be able to reschedule your appointment until the fee is paid.
Thank you for your understanding and interest in our services. We hope to see you soon!!
If you have any questions please feel free to call or text us at: 612-758-0227

Copyright © 2017 Vanish Skin and Laser